What is Blended Learning?
A blended learning approach combines the strengths of both traditional classroom and online learning delivery methods to provide learners with a more engaging, enjoyable and enriched learning experience. EDLounge uses a blended learning approach where appropriate, to allow learners to take advantage of the best of both worlds. This helps to benefit both the learner's style of learning, and allows the teacher to be more flexible by using a variety of teaching approaches.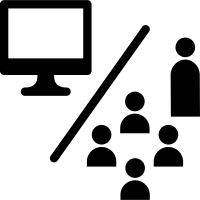 Blended learning and COVID-19
During the Coronavirus COVID-19 pandemic, access to traditional classroom teaching was extremely restricted and challenging for many. The option of accessing online learning provides an excellent blended learning opportunity, as well as an important contingency plan for many schools, colleges, universities and training providers, in the event of a further lock down. The use of online learning enables learning to continue without disruption, keeping the learner on track and enables the teacher to continue to teach, monitor, support and guide the learner.