Home Education
In September 2016 we started working with students who were home educated due to varying circumstances.
In order to improve support for those offering and receiving home education, we have created a new home education package that includes teaching support, online support and learning resources. Along with developing knowledge and understanding in English, Maths and Science through lessons and quizzes, home educated individuals are able to work towards a variety of qualifications.
In 2017 we built our own exam centre where we can house and invigilate exams, alongside becoming partners with Oxford University Press to allow the use of their ebooks for numerous titles and increase our GCSE provision for English and Maths for all learners. We employed further teachers and support officers so that the following headline measure qualifications we can offer for home educated indivduals are:
GCSE Maths
GCSE English
Functional Skills English (Entry Level 1, Entry Level 2, Entry Level 3, Level 1, Level 2)
Functional Skills Maths (Entry Level 1, Entry Level 2, Entry Level 3, Level 1, Level 2)
We can also offer BTEC Qualifications in the following areas:
Business Studies @ Level 1 & 2 (Next Gen) (NQF) QAN Code: 600 / 4786 / 0
Unit 1 - Enterprise in the Business World
Unit 2 - Finance for Business
Unit 3 - Promoting a Brand
Unit 4 - Principles of Customer Service
Unit 6 - Introducing Retail Business
Information Technology @ Level 1 & 2 (Ext certificate) (NQF) QAN Code: 600 / 4789 / 6
Unit 1 - The Online World
Unit 3 - A Digital Portfolio
Unit 8 - Mobile Apps Development
Unit 9 - Spreadsheet Development
Unit 10 - Database Development
Unit 13 - Website Development
Creative Media @ Entry, Level 1 & 2 (Next Gen) (NQF) QAN Code: 600 / 6831 / 0
Unit 1 - Digital Media Sectors and Audiences
Unit 2 - Planning and Pitching a Digital Media Product
Unit 3 - Digital Moving Image production
Unit 6 - Website Production
Applied Science @ Level 2 (Next Generation) - 600 / 4787 / 2 (Through EDEXCEL)
Unit 2: Chemistry and Our Earth
Unit 3: Energy and Our Universe
Unit 4a: Biology and Our Environment
Please note: These qualifications fall under the NQF framework (from September 2013) for the headline measures
We also offer vocational qualifications in the following areas:
Workskills
Money and Finance
Supporting Employability and Personal Effectiveness
Employability Skills
Home Cooking
Through our virtual classroom and online tutors we can also offer GCSE or Functional Skills English and Maths and house onsite exams for any learner. This is a perfect resource to educate, teach and qualify the home educated students.
One to one sessions and personalised reintegration plans can now take place so that every child has an individual and personalised learning pathway with achieveable milestones and targets (with support).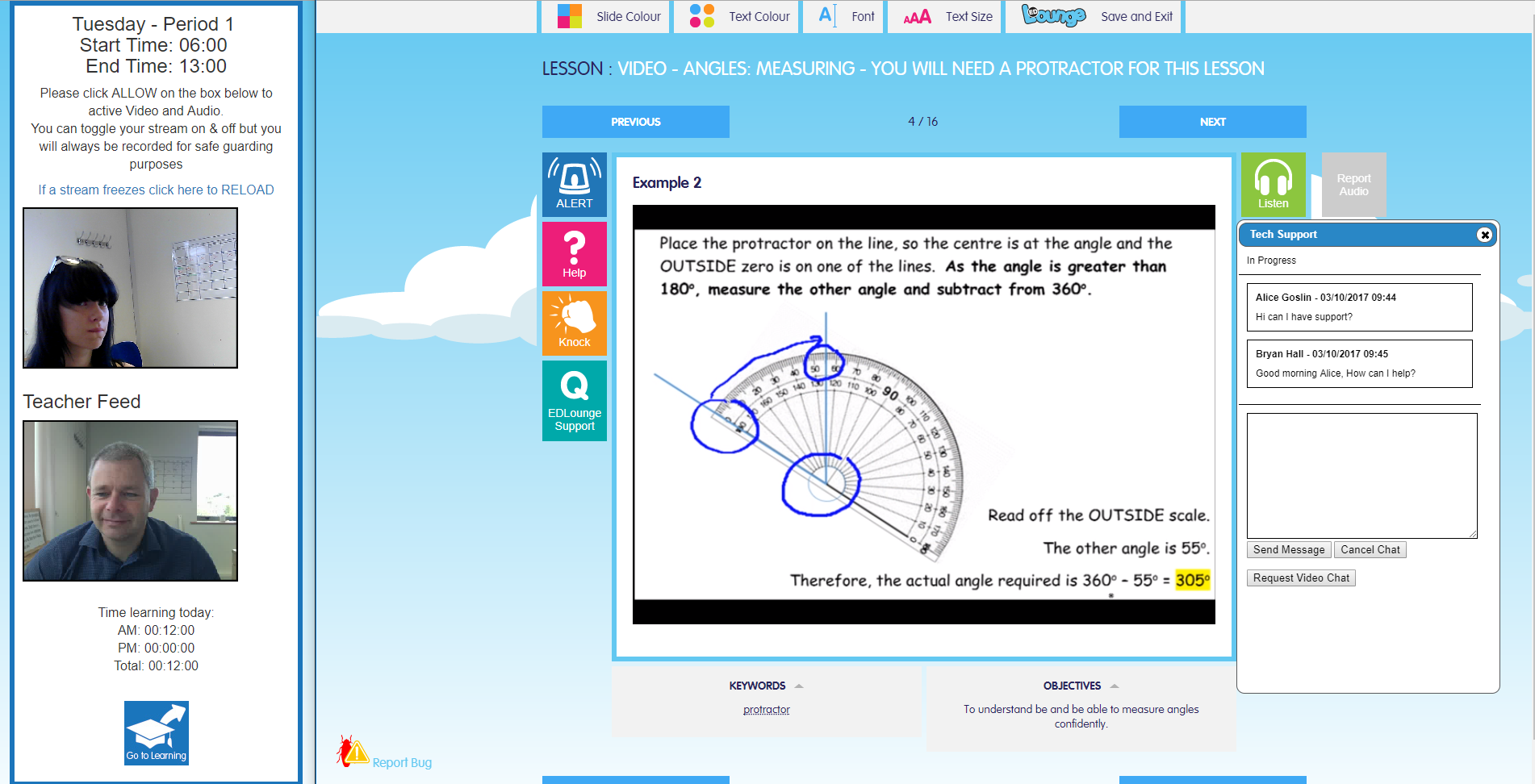 How we started working with children learning exclusively at home
EDLounge in 2016 started to work with a handful of students who were saying no to their educational provision or could not be accessed that often by out reach staff where the majority of the their education took place in their homes, libaries, and drop in centres with a care worker, out reach worker or off site teacher worked together once every few weeks due to time restraints, staffing demands and funding.
We were contacted by Ash Khan (Deputy Head) from Sheffield Inclusion Centre as he had 70 plus students throughout the great city of Sheffield that his out reach workers could only see a few times a month. Overnight, Jane Horsfield bought into the virtual classroom ideal and began to run the EDVirtual platform for her out reach cohort so that it was safe, tracked and recorded for each learner so that most importantly they each had a unique learning pathway and drop in sessions to work with Jane and others. The results were unreal.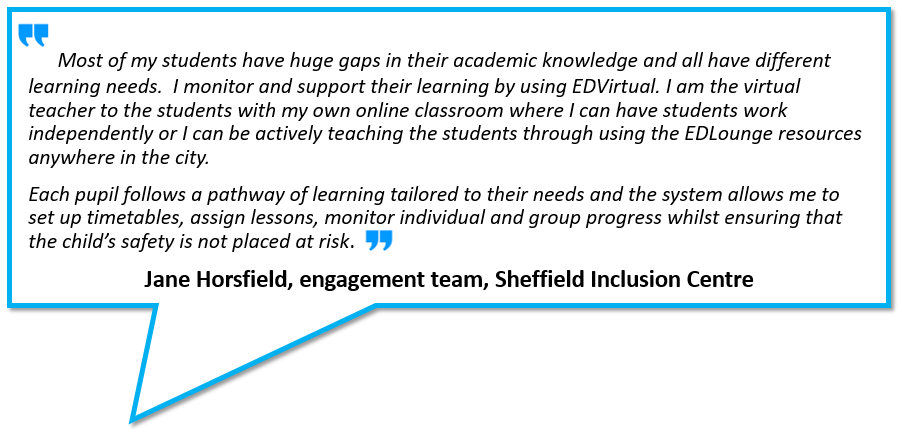 Through the creation of EDVirtual and EDClass+ this has drastically improved the education to a range of students that are ideal for PRUs, Multi Academy Trusts and local councils to use the resource to break down barier for students that are:
home educated
school phobic
school refusers
anxious to school or an learning environment
struggling with metal health issues
persistently absent
long term sick
teenage mums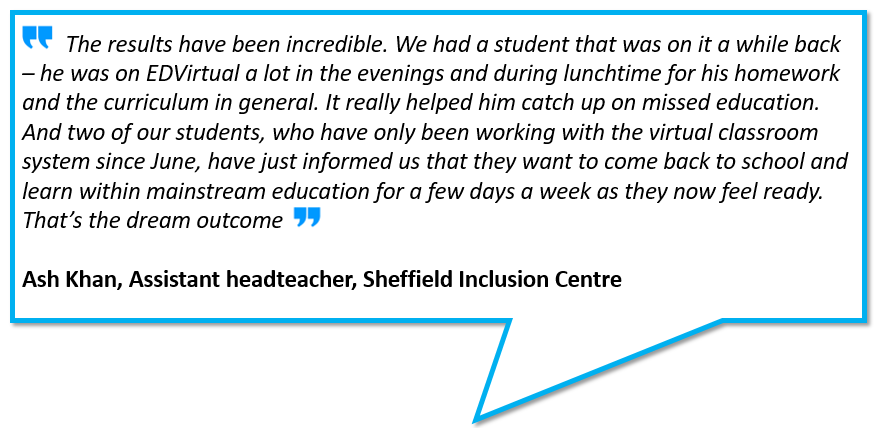 By trained and professional staff being able to remote access into the portal to offer teaching sessions and and support periods every student can log in every morning and afternoon to gain a personalised education with vocational sessions tailored for their needs. Transport, travel, time barriers and insurance cost that have restricted a vast range of students being educated has been answered and removed over night.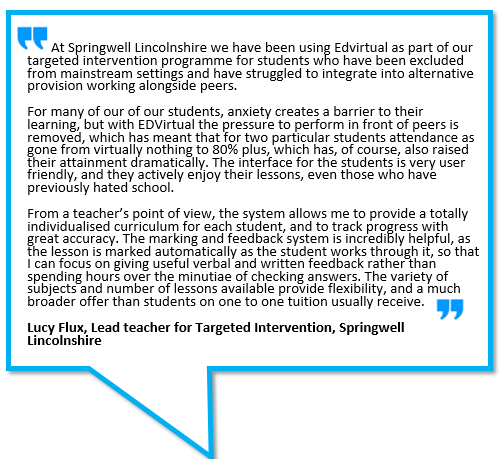 Please contact us on 01909 568 338 or fill in the information below for how EDLounge can be used for your school refusers / home educated.

To request a Demo of EDLounge please click here or fill in the contact form below