Whatever the challenges your child may be experiencing they will:
have access to a 24/7 learning environment so they are able to learn anytime, anywhere
have access to targeted work, set and scheduled in an individual 'learning pathway'
be motivated by instant feedback and rewards
come to recognise the link between their learning, which is fundamental, and the world of work
benefit from our data analysis which will be used to improve outcomes for your child
benefit from diagnosis of their progress with the design of the targeted learning pathway
As a parent you can have the facility to log on to your own EDLounge parent page and see your child's progress and development. You will be able to view many aspects, such as content learned and time spent learning. In this way a true partnership can be further strengthened in supporting learners, teachers and family, as an integral part of the well-being of the school community.
EDLounge is an online e-Learning tool that aims to help your child/children in a range of learning environments. Students can learn through a range of learning pathways and programmes in school, offsite, or at home.

This account allows parents to have a hands-on approach with unlimited online access that gives you the facility to see and monitor your child's:
learning pathways.
lessons, programmes of study, and independent aspects started, left incomplete or completed
targets and objectives of the learner's pathway
progress
grades: aspirational grades, predicted grades, actual performance grades and overall grades
reports
answers/comments/work/coursework/homework submitted
assignments
help requested and responding comments/support
emails, updates and notifications from teachers, assessors, verifiers, EDLounge, and the school
attendance
session usage
How to Create Your Parent/Guardian Account:
First of all the school will have created your child's login details (Username/Password) and have communicated them to him/her on a card or a letter. You will also receive a letter outlining what EDLounge is, why EDLounge is being used, the benefits, and what the logging in process is.
You must then complete the sign up process, log in, sign the declarations for safeguarding, health and safety, student working environments, supervision, child protection and data protection.
We can then increase the number of ways for information to be shared between home, school and our provision.
Our Reports
You will also receive:
a daily, weekly and monthly report automatically sent to your page
a morning and afternoon notification to say if a learner is learning/not learning
a structured synopsis of what the learner has done per session
graphical data to show progress, tracking and development
notifications via texts, emails, and internal emails to show the individual's progress and development
newsletters
access to our policies
reports to show attendance
detailed reports on the internal support given from the school and from EDLounge for lessons when a learner is completing homework, coursework or independent work alongside what support was given for a child that is in either a target group to enhance learning and development, transition, inclusion, suspension or exclusion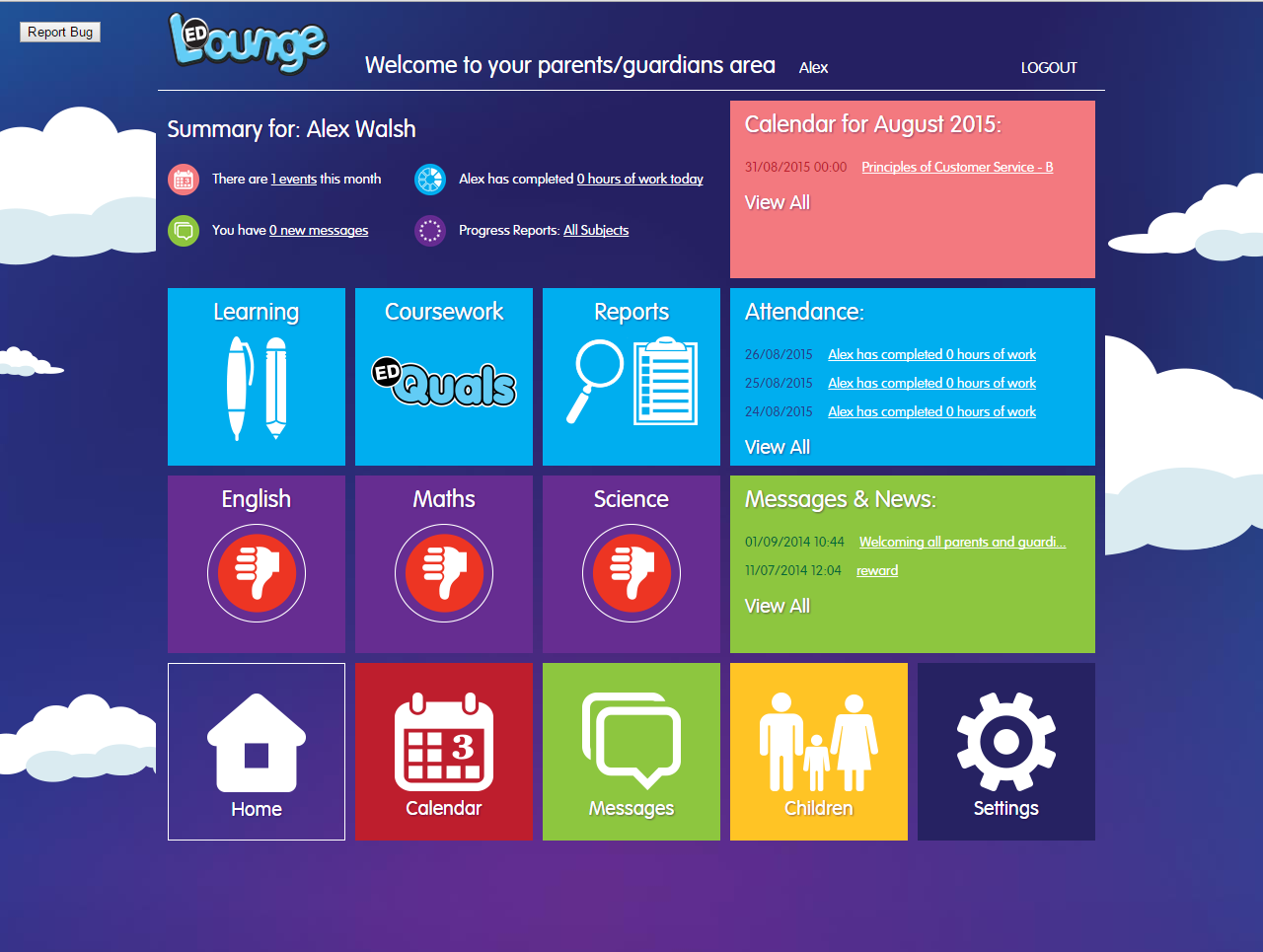 To request a Demo of EDClass please click here or fill in the contact form below