About EDLounge
THE EDLOUNGE ETHOS

"to support and work alongside education with a common goal through the delivery of FULLY INCLUSIVE tailored learning both nationally and worldwide"
EDLounge is a training and education centre providing virtual learning, management, and guidance through an online platform that breaks down all learning barriers for anyone.
BETT FINALISTS 3 YEARS RUNNING
EDLounge is now enjoying its 11th year supplying education and is going from strength to strength, breaking down more barriers to learning than before. Our aim is to help schools and learners feel comfy with their chosen pathway of education.
We cover all the main subjects and a number of different areas to help students learn all aspects of life. The platform was originally designed to help students with behaviour issues and give schools the content to keep them progressing while at home or in isolation.

We now have stepping stones for students with mental health to help them that only engage with education but to progress following their own schools learning cycle. The student benefits from being able to work in a non-pressurised environment and the school have a student making academic progress and can award an attendance code (criteria must be met). Schools increase their attendance by working with us, reduce behaviour and can now accommodate so many different barriers, chronic fatigue, long term and short term health issues.
EDLounge offers over 8700 lessons, live teaching and support meeting the needs of many different students:
EDLounge will be happy to help support your school and students across many different needs.
mental health problems
long-term illness
in isolation
excluded
6th-day provision
home-educated
persistently absent
school phobic
vulnerable
at risk
foundational and functional skills learners
disengaged
demotivated
have low-level literacy or numeracy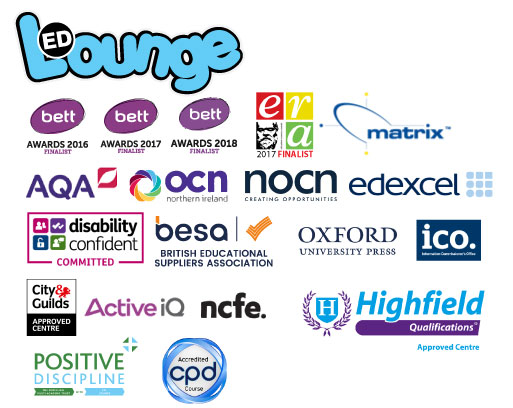 About EDLounge Ltd
Our centre number is 67674A
Our UKPRN is 10048284
Our UPIN is 138838
Matrix Accredited
We are on: ROTO (Register of Training Providers)
We are also on ROATP (Register of Apprenticeship Training Providers)
AEB Funding November 2017
JCQ application in!
We are accredited by:
Pearson (EDEXCEL)
AQA
NCFE
City and Guilds
Highfields
NOCN
Pro-Qual
CPD Accreditation
The Vision:
To be the outstanding provider of choice, delivering high-quality educational learning platforms.
We will achieve this by:
• Delivering excellent teaching and learning to enable our customers to access learning resources, which translate into an achievement of appropriate qualifications and progression to further education and employment
• Constantly developing and reviewing our products and services to meet our customer's exact requirements
• Ensuring our products are cutting edge to meet the needs of our broad customer base
• Providing high quality technical and learning opportunities for our customers and associates
• Being recognised by our customers as a leading provider of educational and technology learning platforms
• Opening the framework of qualifications and resources we offer up to other markets
Values
Quality is what we do - Providing outstanding products and value for money
We are committed to our Customers – We break barriers to learning for all. We provide access and opportunity to educate and recognise the whole learner. We work as an organisation and individually to the best of our ability, putting the customer's needs at the heart of everything we do.
Integrity and accountability are important to us – We do what we say we will. Our organisation is built on honesty and transparency. We are reliable.
Teamwork – We work together as a team. We value and respect each other and our customer.
Respect – All those who come into contact with us - matter.
Inspire – We believe as an organisation that learning should have NO limits. We raise aspirations through innovative teaching and learning solutions.

To request a Demo of EDLounge please click here or fill in the contact form below