In recent months, EDLounge has worked with inspirational senior leaders and spent many hours reading literature: educational papers, journals, blogs, editorials and white papers, with the aim of adapting our present tracking and technology within our cloud platform. Why? To produce a unique piece of software and a system which can be tailored to suit any educational organisation's 'assessment without levels' approach.
Our Assessment Framework incorporates:
Mastery statements
Teaching and Learning Progress Grids
Student achievement statements
Objective-based tracking
Formative assessment
Summative assessment
Analysis of performance by teachers and students
Parental involvement

Our Assessment System:
Can be bespoke and editable for any establishment
Can address any assessment approach
Supports individual progress
Uses a range of assessment tools to capture and record progress
Uses technology to track attainment and progress
Makes reporting instant to staff, students and parents

We launched our 'assessment without levels' software in EDLounge so that it can work for any of our schools. We have now created a unique platform to incorporate mastery statements, objective tracking and teaching / learning progress grids, alongside an assessment grid which can be tailored to any school's assessment framework. ​Our framework also includes the objectives found in English, Maths and Science, to be covered throughout the year. This allows us to incorporate summative or formative feedback in our software. Whatever your approach to assessment without levels, we can manipulate our software to match your needs. Our assessment system enables you to create a model of assessment that your staff know will work and which will suit them.
Tracking & Reporting
Within 'assessment without levels' we have incorporated 'any curriculum or assessment builder,' for any method of assessment. There is comprehensive tracking and progress reporting for an individual, class, target group, catch up group, year group or key stage group (as below)


Our Assessment Tracking and Reporting helps you:
Compare each child's standard of attainment against school and national expectations
Compare and assess each individual learner's / target group's and whole year group's answers, feedback and progress
Our Assessment package
Any type of summative and formative assessment can be assessed, tracked, monitored and recorded
Students' expectations, strengths and weaknesses are highlighted and monitored
The graphical data page allows comparisons between actual classroom progress and students' expected and predicted progress
Assessment dates, deadlines and progress reports are easily created to review
You can create a teacher page to comment on/assess work, behaviour, attendance and attainment alongside achievement
Use a student page to identify strengths, weaknesses, effort and behaviour against the expectations
Create your own exams, homework, lessons, and baseline tests
Develop an extensive breakdown of every question, exam and assessed area for all cohorts, target groups, classes and individuals
Create a student and parent-friendly area to extrapolate and understand assessment data through progress reports, comments and graphs
Create target groups and procedures to enhance 'catch up' students' progress in English, Maths and Science
Use a Head of Department page to set up an assessment from the curriculum page
Create a bank of statements for issues, targets, expectations and comments
Access instant and bespoke inspection-ready reports
Types of assessment
Types of assessment that can be tailored for your assessment policy:
Teacher observations/teacher judgments
Knowledge
Understanding of topic
Exams
Baseline tests
Benchmark tests and exams
Coursework
Presentations
Behaviour
Attitude to learning
Classwork
Individual presentations
Attendance
Student statement
Speaking
Listening
Grammar

Homework
Effort
Practical work
Competence
Organisation
Readiness to learn
Engagement
Cross-curricular development
Spiritual, moral, cultural and social development
Writing
Literacy
Numeracy
Homework
Peer work
Evaluation skills
Skill Development
Group work
Assessment Reporting
Our resource:
is KS1/KS2/KS3 and KS4 compatible for any assessment, grading and tracking system and approach
works alongside the GCSE number grading framework
ensures all reports and tracking reports are exportable, downloadable and printable
is SIMs compatible
can be incorporated for academy chains, groups of schools and for transitional aspects between primary and secondary establishments
has 10,000+ lessons to work alongside your curriculum
can be made bespoke - every aspect can be edited and turned on / off
has a comprehensive range of tools to help students, staff and governors understand assessment and grading systems used in your establishment
instantly updates to show live tracking data for reports and progress being made and both student and teacher work being submitted (see graph below):
Easy-to-use software
Within our 'Assessment without Levels' software, your teachers have the facility to create and mark: monitor and report:
Exams
Lessons
Projects
Coursework
End of unit tests
End of unit baseline tests
And to record, monitor and report:
'Close the gap pathways' for students to catch up
Subject performance for each student, class or target group within the classroom, in EDClass, independently, in exams and homework (as below - incorporating percentages)
Progress made alongside teaching and learning
Week-by-week/term-by-term progress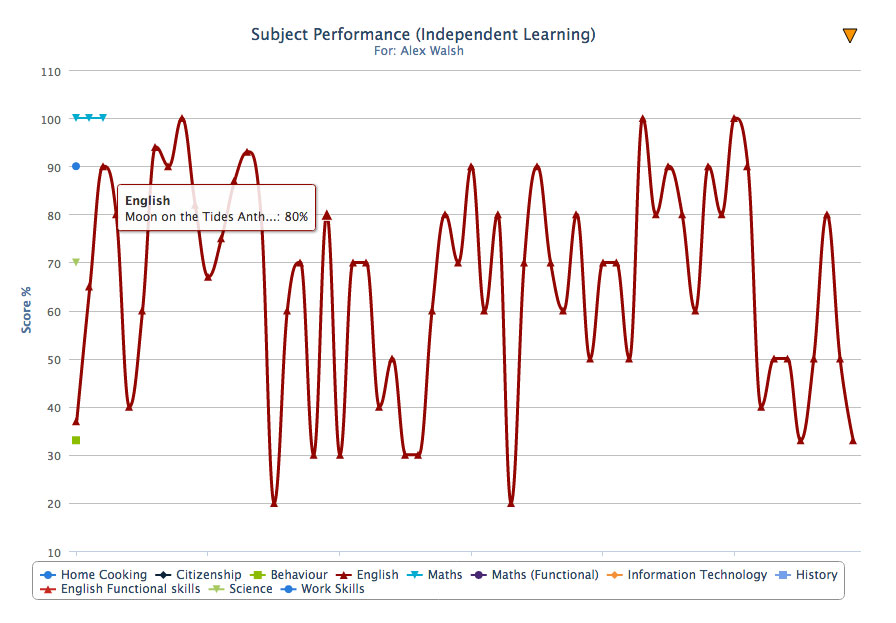 The software also allows your staff to:
track against levels of progress (as below)
stipulate how much progress must be made per year
measure whether pupils are on track to meet end of Key Stage expectations
show lesson-by-lesson / week-by-week / term-by-term assessment and progress
identify strengths and weaknesses against expectations per year / per topic / per term / per half term
provide feedback and comments regarding what has been done well and what needs to improve per lesson, topic, term, year and Key Stage. This can be reported to staff, students and parents
help faculty / staff recognise where students are struggling and address problems immediately (showing different types of graphs and indicators as below)
Students: Expectations and progress
Learners also have a facility at the end of term, assessment module or topic to evaluate their own:
Effort
Behaviour
Attainment
Strengths and weaknesses
and then set their own targets whilst evaluating their progress (as seen below for students, teachers and parents)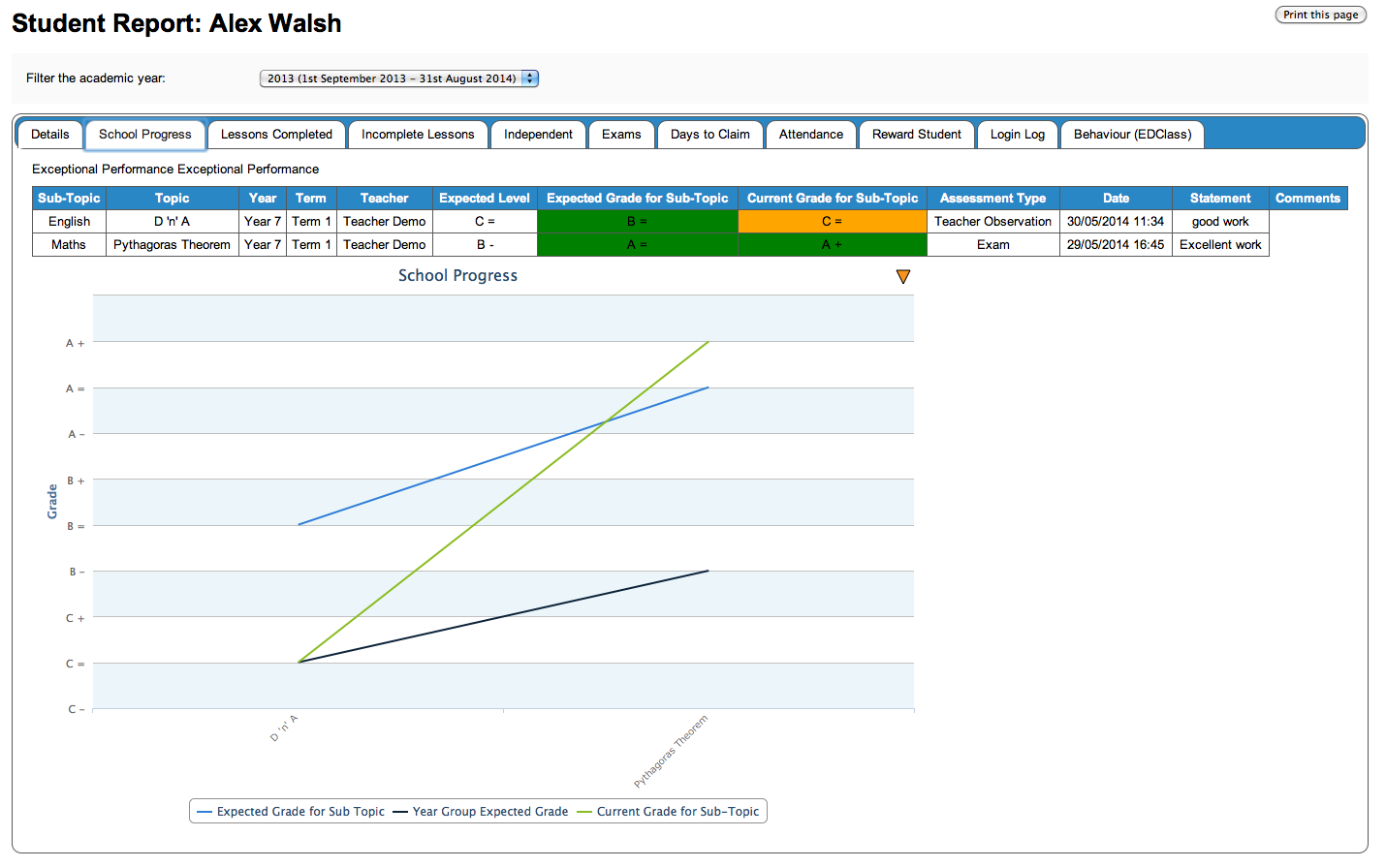 Examples of what our 'Assessment without Levels' framework and system can offer your establishment (primary or secondary)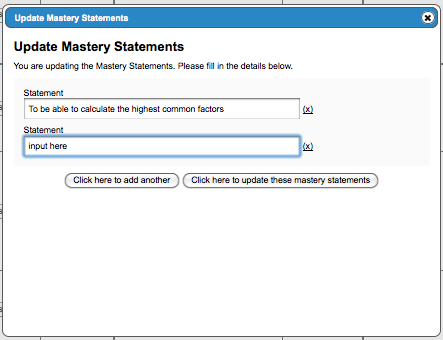 Our assessment grading system can incorporate any grade, image, colour, point, percentage, or statement-based assessment approach. We can match your approach to the student's expectation levels and progress within each topic, term, subject, year or Key Stage.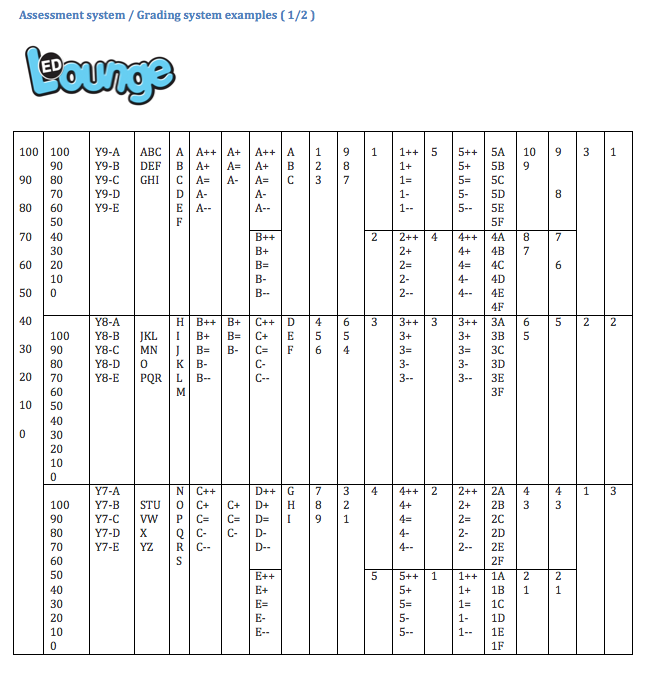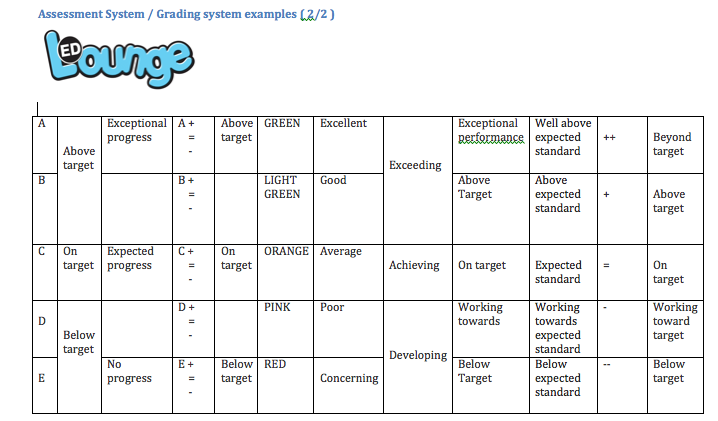 Recently we have made even more changes from DfE Recommendations
From the DfE recommendations for schools we have also added:
A facility to have a range of assessment types to recognise the opportunities arising from the new curriculum and the removal of levels
The facility to make all assessment methods bespoke to meet the needs of all schools to develop their assessment policies through our Teaching and Learning Progress Grids.
Comprehensive new tracking that provides school leaders with data to enable progress to be monitored across year groups and over time.
Any aspect of our assessment framework can be moderated, bespoke and turned on/off. Our assessment framework can be tailored for any teaching group.
Please call us on 01909 568 338 for a free no obligation trial. We can get your establishment up and running within 24 hours using any assessment without levels approach.

To request a Demo of EDClass please click here or fill in the contact form below