Case Studies
EDLounge January - March 2017 Case Study: Providing an effective Virtual Classroom and alternative provision for a Pupil Referral Unit to increase outcomes, raise achievement and improve attendance.
By Sheffield Inclusion Centre
Cohort: A cohort of 15 students, who are not just school refusers but also "PRU refusers"
"Our students are out of mainstream education for various reasons; they might suffer from anxiety or other mental health issues. Others simply just don't like school. But our objective is very clear: we want to get our students back into mainstream education."
Objectives: To use the EDVirtual (Virtual classroom) to help educate, support and offer safeguarding for a range of students with both the schools and EDlounge teaching and support staff
Methodology: To follow a unique learning pathway specially designed for each student in English and Maths whilst getting virtual support on line by a safeguarding mentor (at the school) and getting online support regarding lessons (within EDLounge)
"We use a virtual classroom to deliver lessons and homework to our students, and they receive an attendance mark for each session. There is a tracking system in place so we can see at a glance how many times a student has logged on, what they're doing, how they're progressing, and so on. We're also able to have a virtual face-to-face check ins with each student, enabling us to see that the student is safe and well, and also speak to them about their work and progress".
Results:
Stats: 14 out of 15 students (93%) progressed completing a six week English and Maths programme
Stats: 83.25% attendance rate.
Stats: 4% increase in the whole school attendance
Stats: One students percentage increase by 43%
Stats: 36% of cohort had 100 percent attendance
Success: Two of the students asked to come back into centre and have been successfully reintegrated.
"The results have been incredible. Two of our students have recently informed us that they want return to mainstream education! With a virtual classroom, we're able to ensure our students receive classwork and homework regularly, and we can monitor their progress and give them the support they need, so that when the time comes, the transition back into the classroom goes smoothly."
EDLounge May 2014 Case Study: Providing an effective alternative provision for an Academy to reduce exclusions, raise achievement and improve attendance.
By Andy Percival, Assistant Headteacher, The Rodillian Academy
"The Rodillian Academy and EDLounge came together in September 2013 to look at how we could improve our existing online provision. This needed to meet national guidance on the use of alternative provision and, more importantly, provide high quality, appropriate work for students who were not accessing mainstream education for a fixed period of time.
We have developed a unique package to support students who are out of mainstream education, providing them with appropriate, accessible work that is accessed through a secure online platform. This is monitored by qualified teachers throughout the day who quality assure the work that students are completing and provide support through a help function when needed. We expect students who are expelled from school to complete a set number of hours in EDLounge; staff from school and parents/carers can then monitor their activity online. The response from parents/carers has been overwhelmingly positive as they can measure the quality of the work students complete whilst they are not in school.
As part of the personalised programme for students who are expelled from school for a fixed period of time, they must complete a programme of behaviour repair work which is then discussed at the re-integration meeting. Over 95% of students who have been expelled from school have completed the required behaviour repair work and the required amount of hours to a satisfactory standard.
In just one term, we have prevented a staggering 110 inclusion days, increased attendance and drastically reduced exclusions through EDLounge / 'EDClass'.
The implementation of EDLounge to support students who are excluded from school has had a significant impact on an identified cohort of students. It provides them with a programme of study and behaviour repair work that is monitored daily by school staff and parents, ensuring that students are engaged in meaningful work throughout their exclusion. This has meant that exclusions have become more of a deterrent and are now seen as more meaningful and robust by parents/carers. This has meant a reduction in the number of repeat exclusions which is, in turn, seeing a marked improvement in attendance. We are currently exploring ways of introducing EDLounge to support our students who are engaged in alternative provision and as a possible tool to support homework.
We would have no reservations in recommending EDLounge as a valuable resource within any educational setting. The access to qualified teachers throughout the EDLounge experience promotes a level of engagement that we have not seen with similar products. We have used a range of online products and have always felt that there was something missing. EDLounge meets the needs of students, parents/carers and staff, ensuring that safeguarding and student engagement are paramount."
A.Percival,
Assistant Headteacher, The Rodillian Academy
For more information about how EDLounge can help your Academy raise attendance, reduce exclusions and improve whole school standards call 01909 568 338, or email mail@edlounge.com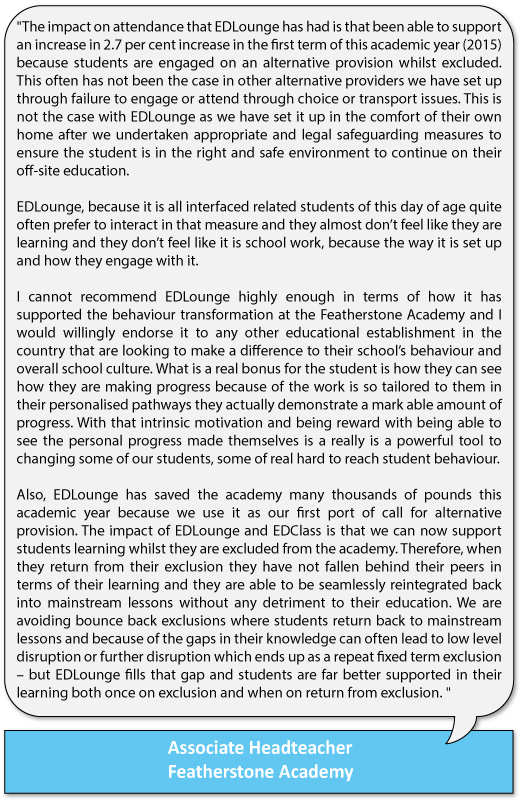 CASE STUDY: EDLounge at Geelong High School, Victoria, Australia
We commenced with EDLounge in 2012 following a chance finding of the program on the internet. I then met with Chris Ramsden the Director of EDLounge Australia. Chris demonstrated the program to a number of staff at the school and we agreed to proceed with the purchase of a full licence.
We have been using the program for a number of students who present with a range of issues. The issues impacting on the students and their ability to fully engage in mainstream schooling include, long term physical illness and treatment, high levels of anxiety, severe clinical depression, Autism Spectrum Disorder (ASD) and school refusal.
Of the 6 students we had on in term 4, two have returned to full time school attendance which is a great result. Two have left the area and two are continuing with EDLounge. We have four new students on the program this year. Their issues are around anxiety and in one case the student has Autism Spectrum Disorder (ASD) and finds the school environment too challenging to manage.
The beauty of EDLounge is that you can design the student's program to suit their ability and interests. The student does not know what level the work is pitched at and you can randomise the lessons. In some cases EDLounge is one aspect of the student's weekly program and they may be linked in with other programs. In Victoria, where we are funded directly by the government on a per capita basis, we have found from a financial point of view that EDLounge has paid for itself due to having students engaged in learning whilst not necessarily learning at school.
It is still early days for us and we are learning the best ways to use the program. We have a number of students who go to their local library twice a week for two hour blocks to do their EDLounge. This provides a number of advantages including, putting some routine into their life, providing a break for parents/carers and allowing school staff to maintain the relationship with the students without intruding on the home. We ensure that a staff member always drops in to see the student at the library .We have
started some students out of school initially and then gradually returned them to school to allow them to build their confidence in being in a mainstream setting.
We are exploring how to use some of the content in our mainstream classes and for homework. Longer term we may use EDLounge as a learning management system as you can alter existing lessons, or add new lessons.
Ken Stewart
Assistant Principal
Geelong High School, Victoria, Australia (Student Wellbeing)
More...