Our English suite of learning, which includes GCSE English Literature and GCSE English Language, have been created by a group of trusted teachers. An extensive digital resource bank, to help you achieve more with your students.
our content offers a stimulating and engaging learning experience
our e-learning environment is designed to suit everyone, allowing students of all abilities to succeed
English Literature and English Language are designed to work together, giving students the opportunity to develop a wider range of knowledge and skills.
We are proud to announce that our partnership with Oxford University Press is now official and the ebooks with audio, content, diagnostic exams and elearning lessons are now online for English Literature and Language for the following books:
A Christmas Carol
Frankenstein
Dr Jekyll and Mr Hyde
The Hound of the Baskervilles
Great Expectations
Pride and Prejudice
Macbeth
Sherlock Holmes: The Sign of Four
Hamlet
Much Ado About Nothing
Romeo and Juliet
Here are the novels, prose, plays, poetry readings that are available within EDLounge, which are suggested by the examination bodies:
Shakespeare
Macbeth
Romeo and Juliet
Much Ado About Nothing
(EDLounge has Othello and Hamlet available as well)
The 19th-century novel - Students will study one novel from the list of set texts.
Robert Louis Stevenson - The Strange Case of Dr Jekyll and Mr Hyde
Charles Dickens - A Christmas Carol
Charles Dickens - Great Expectations
Mary Shelley - Frankenstein
Jane Austen - Pride and Prejudice
English Language
EDLounge houses a vast portfolio of learning content for English language, looking at the requirements for all British Examination bodies. The resources cater towards the specifications of:
Explorations in Creative Reading and Writing
Fiction and Imaginative Writing
Writers' Viewpoints and Perspectives
Non-fiction and Transactional Writing
Spoken Language
Our extensive Reading List that is available:
A Christmas Carol
An Inspector Calls
Animal Farm
Diary of a Wimpy Kid
DNA
Felicia's Journey
Gangsta Rap
Great Expectations
Hamlet
Holes
Kindertransport
Macbeth
Much Ado About Nothing
Of Mice and Men
Othello
Pride and Prejudice
Pride and Prejudice Volume II
Pride and Prejudice Volume III
Rani and Sukh
Romeo and Juliet
Skellig
Stone Cold
The Boy in the Striped Pyjamas
The Curious Incident of the Dog in the Nigh
The Hound of The Baskervilles
The Switch
The Tomcat
To Kill A Mockingbird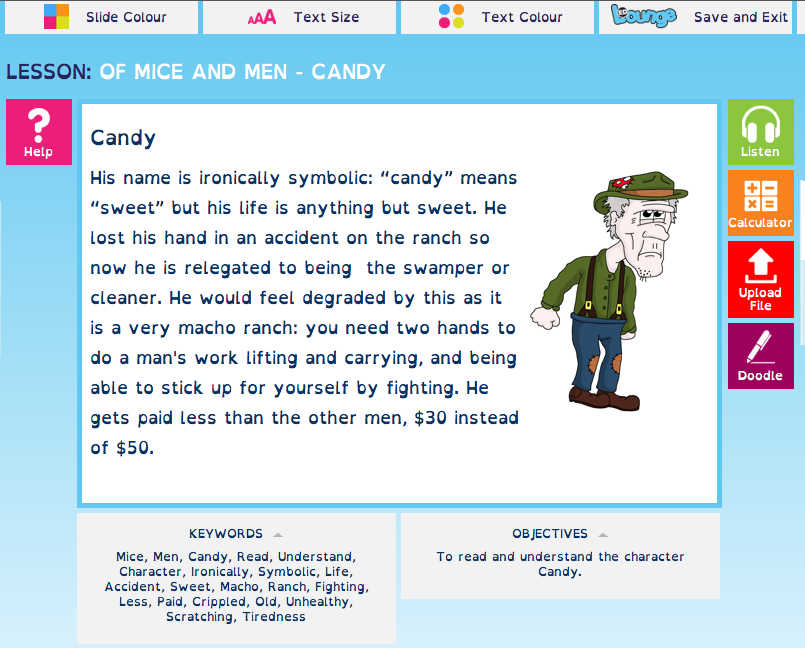 Modern texts and poetry
Modern texts - Students will study one from a choice of these set texts, which include post-1914 prose fiction and drama.
JB Priestley - An Inspector Calls
Dennis Kelly - DNA
Simon Stephens - The Curious Incident of the Dog in the Night-Time
George Orwell - Animal Farm
PLUS a comprehensive Poetry Anthology range
Our Poetry Reading List is:
Exploring Poetry - Ghazal
Exploring Poetry - Havisham
Exploring Poetry - How is conflict presented in The Man He Killed and Flag
Exploring Poetry - Porphyrias Lover
Exploring Poetry Born Yesterday
Exploring Poetry Born Yesterday and In Paris with you
Exploring Poetry Brothers
Exploring Poetry Comparing Sister Maude and Brothers
Exploring Poetry In Paris with You / Sonnet 116 Comparison
Exploring Poetry Manhunt
Exploring Poetry Manhunt/Sonnet 43 Controlled Assessment
Exploring Poetry Nettles
Exploring Poetry Praise Song for my Mother
Exploring Poetry Quickdraw
Exploring Poetry Quickdraw and Sonnet 43 comparison
Exploring Poetry Sister Maude
Exploring Poetry Ghazal and To His Coy Mistress Comparison
Exploring Poetry Harmonium
Exploring Poetry Harmonium and Nettles comparison
Exploring Poetry Hour
Exploring Poetry In Paris with You
Exploring Poetry Sonnet 116
Exploring Poetry Sonnet 116 and Hour comparison
Exploring Poetry Sonnet 116 and Sonnet 43 comparison
Exploring Poetry Sonnet 43
Exploring Poetry The Farmer's Bride
Exploring Poetry The Farmer's Bride and The Manhunt comparison
Exploring Poetry To His Coy Mistress
Exploring Poetry To His Coy Mistress and Hour comparison
Exploring Poetry Praise Song for My Mother and Nettles comparison
Poetry Across Time - At the Border and Out of the Blue
Poetry across time - Compare Hawk Roosting and Bayonet Charge
Poetry across time - Compare how ideas are presented in The Falling Leaves and Poppies.
Poetry across time - Compare next to of course god america i and Flag
Poetry across time - Compare the attitudes to death in war in Futility and The Falling Leaves.
Poetry across time - Compare the effects of repeated form in The Right Word and Flag
Poetry across time - Compare the effects of war on city life as presented in The Yellow Palm and Belfast Confetti.
Poetry across time - How to compare two poems in the examination
Approaching a Poem - Les Grands Seigneurs
Approaching a Poem - Mametz Wood
Poems Past and Present Love and Relationships: Before You Were Mine
Badger poem
Our Moon on the Tides Anthology List:
Moon on the Tides Anthology - Bayonet Charge
Moon on the Tides Anthology - Drummer Hodge
Moon on the Tides Anthology - Drummer Hodge & Mametz Wood
Moon on the Tides Anthology - Give
Moon on the Tides Anthology - The River God and Medusa Part 2
Moon on the Tides Anthology - At the Border, 1979
Moon on the Tides Anthology - Belfast Confetti
Moon on the Tides Anthology - Come On, Come Back
Moon on the Tides Anthology - Compare Futility and The Charge of the Light Brigade
Moon on the Tides Anthology - Flag
Moon on the Tides Anthology - Futility
Moon on the Tides Anthology - Hawk Roosting
Moon on the Tides Anthology - Next To Of Course God America I
Moon on the Tides Anthology - Out of the Blue
Moon on the Tides Anthology - Ozymandias
Moon on the Tides Anthology - Ozymandias and Les Grands Seigneurs compared
Moon on the Tides Anthology - Poppies
Moon on the Tides Anthology - The Charge of the Light Brigade
Moon on the Tides Anthology - The Clown Punk
Moon on the Tides Anthology - The Falling Leaves
Moon on the Tides Anthology - The Man He Killed
Moon on the Tides Anthology - The Right Word
Moon on the Tides Anthology - The Yellow Palm
Moon on the Tides Anthology - Singh Song!
Moon on the Tides Anthology - The Ruined Maid
Moon on the Tides Anthology - The River God
Moon on the Tides Anthology - The Ruined Maid

To request a Demo of EDClass please click here or fill in the contact form below