As of September 2014 it became compulsory to deliver languages to all children in Key Stage 2.
This can be a real challenge if you don't have a teacher with a specialist languages background to deliver the subject. We have created a package to address all your needs for your delivery of French. We have a language specialist to offer online support interactively to assist both your learners and staff.
Individual tasks, group tasks and class tasks all complement the learning within our ePortfolio.
Demonstration
Please view our demonstration opposite to see how our Language ePortfolio can benefit your establishment.
Resource Packs
Each Resource Pack contains 3 Modules (allowing for 1 per term). Each Module contains about 10 lessons which are designed to be relevant, engaging and fun. Whether describing crazy monsters or looking at environmental issues, each lesson enables real progress to be made. Each lesson guides learners (and the teacher!) through the objectives.
Our Lessons
One lesson equates to one week's work and could be delivered in one 30-40 minute session or in two 15-20 minute sessions. Each lesson has a range of activities to support learning and is designed to be delivered by non-specialists or to be accessed independently by learners.
All resources, lessons and tasks have embedded audio files to support and help develop pronunciation. A range of interactive activities, puzzles and quizzes are included to reinforce learning that will correspond with the new National Curriculum and Assessment without levels. We have conversations, animations, sound files, assessment methods and a range of interactive activities to engage your learners and develop their knowledge. Parents can also see the progress their children are making and support them in the homework lessons.
Our French Topics
MODULE

LANGUAGE/VOCABULARY

GRAMMAR

Pack 1

MOI

greetings, name, age, 0-20

present tense – forms of avoir/s'appeller,

cardinal numbers,

cognates/near cognates

MON ZOO

animals,colours, descriptions

genders of nouns, adjectives, connectives, relative clauses

MA

FAMILLE

family, hair/eyes, pets

genders of nouns, possessive adjectives – mon/ma/mes

use of 3rd person, adjectives, negatives

Pack 2

EN

CLASSE

classroom objects, subjects, days, opinions, rooms

genders, negatives, plurals, prepositions, connectives

MON MONSTRE

descriptions, parts of body, characteristics

adjectives – position and agreement

EN VILLE

places in a town, directions, shops

future (je vais visiter)

imperatives

use of on, adjectives

Pack 3

LES PASSE-TEMPS

sports and activities, time phrases, places, people, equipment

use of 'faire' and 'jouer', present tense, past tense

LES VÊTEMENTS

clothes, seasons, sports, school uniform, opinions

adjective position and agreement, past tense, conditional (Je voudrais), use of 'il faut'

MANGER ET BOIRE

breakfast, lunch, dinner, fast food, numbers 0-100

present tense, past tense

Pack 4

LES VACANCES

countries, holiday activities, accommodation, weather

future tense, past tense

L'ENVIRONNEMENT

environment, recycling

use of 'il faut',use of 'pouvoir'

UNE INTERVIEW AVEC UN CÉLÉBRITÉ

Covers a range of vocabuary, grammar and skills from all modules.
Our Portfolio
Each learner will have their own Portfolio/Passport of 'can do' statements linked to language and grammar skills which will support their transition to secondary school.
"Learning a foreign language is a liberation from insularity and provides an opening to other cultures" - KS2 Programme of Study. Each Resource Pack has lessons on a variety of cultural topics to engage learners and develop their understanding of another country.
Benefits
Language learning has so many benefits:
It stimulates creativity and the imagination
It develops literacy skills
It improves listening and speaking skills
It celebrates cultural diversity
It teaches strategies to improve learning in all curriculum areas
Pricing
Our Language package has a three-tier price plan:
Level 1 (Teaching and Classroom Resources)
Price: £1995 per school per year (unlimited users). £4995 per school for 3 year subscription (unlimited users).
This pack includes:
All teaching resources including interactive activities, embedded audio files to help with pronunciation and presentation materials
The facility to share the teacher account to teach the whole class
Lesson plans
All handouts
PLUS
Multiple teacher accounts
Unique learner accounts to log in for class and home work
Multiple teacher logins with facility for tracking each year group
Comprehensive tracking, reporting and monitoring
Editable content
Multiple choice, 'Drags & Drops', Media files, Puzzles
Online support
Progress reports, baseline tests, end-of-lesson assessment and end-of-module assessment
Parent accounts to view progress
Level 2 (Teaching, Classroom and Specialist Marking)
Price: £3999 per school per year (for schools with under 100 pupils in Y3 - Y6) or £4750 per school per year (for schools with over 100 pupils in Y3 - Y6). £9995 for 3 years' subscription.
This pack includes:
All teaching resources including interactive activities, embedded audio files to help with pronunciation and presentation materials
Facility to share the teacher account to teach the whole class
End-of-module marking for speaking and writing assessments
Lesson plans
All handouts
PLUS
Thorough marking and assessment by our specialist team of MFL teachers to offer corrections, feedback and tips for improvement to coincide with your assessment policies. Speaking, writing and punctuation is marked.
Multiple teacher accounts
Unique learner accounts to log in for class work and home work
Multiple teacher logins with facility for tracking each year group
Comprehensive tracking, monitoring and reporting
Editable content
Multiple choice, 'Drags & Drops', Media files, Puzzles
Online support
Instant downloadable Ofsted reports
Progress reports, baseline tests and assessment
Parent accounts to view progress
Example Lesson Plans
Here is an example of one of our French lesson plans: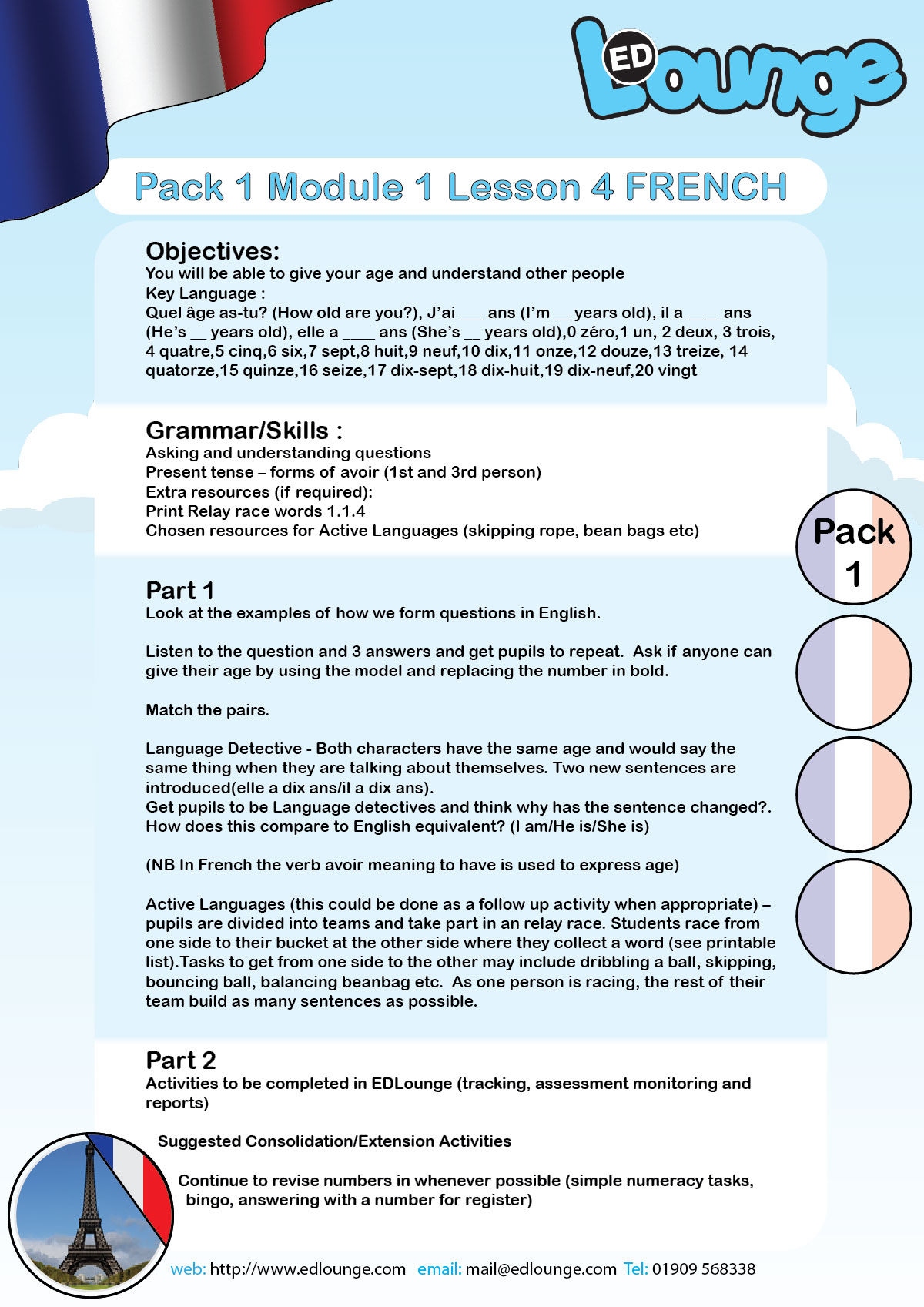 ​

To request a Demo of EDClass please click here or fill in the contact form below