Improving A*-C Performances
EDLounge offers numerous qualifications that will help your learners improve their grades. Your students can complete 2 awards which will enable them to count on your school A*-C list. BTEC qualifications in Construction, IT, PE, Media, Applied Science, Hospitality, and Business Studies will all count towards your school's A*-Cs.
The NQF qualifications we offer will also improve your students A*-Cs, BEST 8 scores and Value Added.
We cater for all of your students' needs as we have an extensive selection of theory, practical, knowledge and academic lessons, along with online tutor support by BTEC experts in each specific qualification.
Our support members offer pre-assessment, assessment and feedback for students, alongside of which we have a range of practice, live and mock exams for the students to prepare themselves for their new next generation BTEC courses We cater for every aspect of the new next generation BTEC courses and we offer a comprehensive support system in place for every student.
Call 01909 568 338 for more information or to receive a free demo and two week trial of the resource to see how our system can improve your students' A*-Cs, Best 8 and Value Added scores.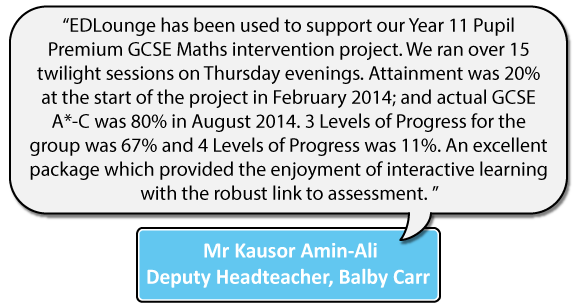 More...