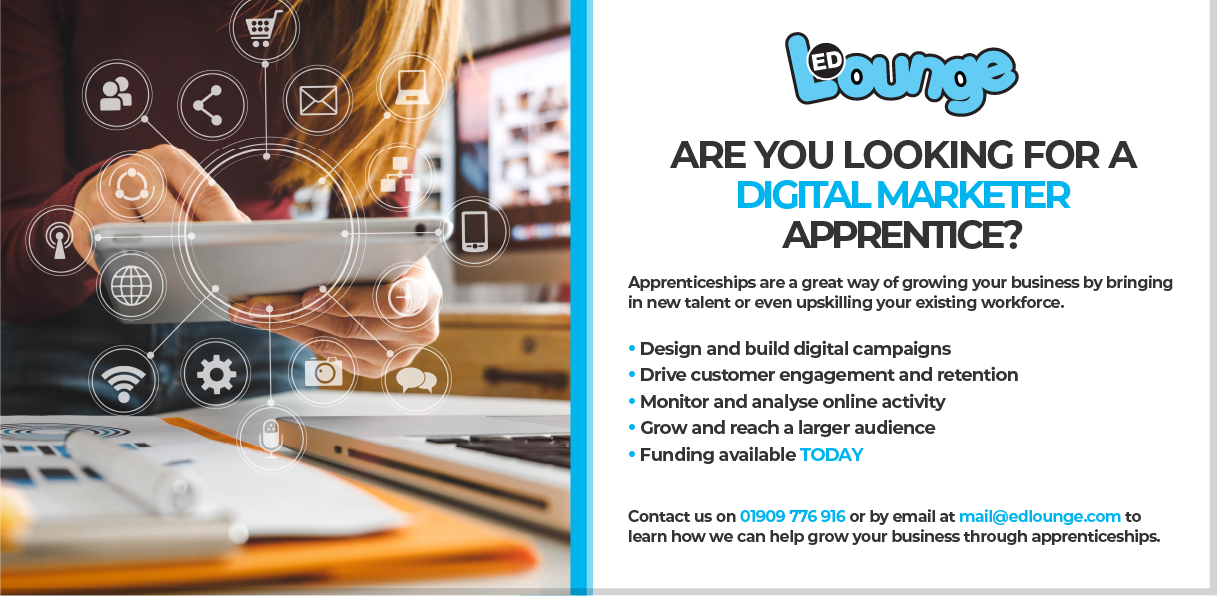 Standard Number:
ST0122
Qualification Level:
3
Course Duration:
18 months + EPA
Qualification Achieved:
This apprenticeship is recognised for entry on to the Register of IT Technicians and those completing their apprenticeships are eligible to apply for registration.

Completion of the apprenticeship would also allow access to join as an Affiliate (Professional) member of the CIM (Chartered Institute of Marketing) and/or Associate membership of BCS.
Apprenticeship Category:
Sales, Marketing & Procurement
Job Role
A Digital Marketer defines, designs, builds and implements digital campaigns across a variety of online and social media platforms to drive customer acquisition, customer engagement and customer retention.
A Digital Marketer will typically be working as part of a team, in which they will have responsibility for some of the straightforward elements of the overall marketing plan or campaign.
Other Associated Job Roles:
Digital Marketing Assistant, Digital Marketing Executive, Digital Marketing Co-ordinator, Campaign Executive, Social Media Executive, Content Co-ordinator, Email Marketing Assistant, SEO Executive, Analytics Executive, Digital Marketing Technologist.
Requirements
Individual employers will set the selection criteria, but this might include GCSEs, A levels, a Level 2 apprenticeship or other relevant qualifications, relevant experience and/or an aptitude test with a focus on functional maths. Employers are likely to be looking for a proven passion for digital and social media.
Level 2 English and Maths will need to be achieved, if not already, prior to taking the end point assessment.
Modules
| | |
| --- | --- |
| Module 1: | Business and Personal Development |
| Module 2: | Social Media |
| Module 3: | Branding |
| Module 4: | Copywriting and Etiquette |
| Module 5: | Website Creation |
| Module 6: | SEO and Paid Search |
| Module 7: | Strategy Sales and Segmentation |
| Module 8: | Coding |
| Module 9: | Marketing Principles |
| Module 10: | Marketing Business |
| Module 11: | Mock EPA/Overview |
Interested in learning more?
You can read more about this apprenticeship along with the standards here. If you are interested in the role, fill in the contact form below and we will be in touch with more information about what we have to offer.