EDVirtual is the virtual classroom element where our staff or your staff can be used to help any learner attend a bespoke, online classroom and enable them to achieve their goals alongside the e-learning aspects. EDLounge support staff/teachers can also assist and administer/deliver sessions, too, within the partnership.
EDLounge launched EDVirtual (Our Virtual Classroom) in 2016 so that schools could benefit from the Virtual Classroom approach and support a range of learners in and outside of school. EDVirtual has been created so that your establishment can target those hard-to-reach learners, using your own staff, mentors and support staff (alongside EDLounge teaching staff) to educate learners in any location. Our new virtual classrooms can help schools and centres educate learners who have difficulty attending a mainstream provision.
EDVirtual
EDLounge can offer teaching support for any organisation. This alternative provision partnership enables learning and attendance grades and would be suitable for learners who:
are suspended
suffer from anxiety
are home-educated
are distance learners
are school phobic
are in inclusion units
have mental health issues
require one-to-one support
are school refusers
are demotivated
are vulnerable
have long-term sickness
are persistently absent
are in a targeted group
have low levels of literacy/numeracy
are submitting qualification coursework
Your learners will benefit from being taught by your teachers - whom they know and trust - in our virtual classroom, using our online platform tailored to each individual learner's needs and capabilities.
Our unique safeguarding tools have been developed with these students in mind to give educators the best opportunity to deliver lessons to off-site students whilst monitoring their behaviour and safety. All virtual lessons can be streamed live for teacher viewing and are also recorded and automatically backed up and saved to ensure safeguarding all round.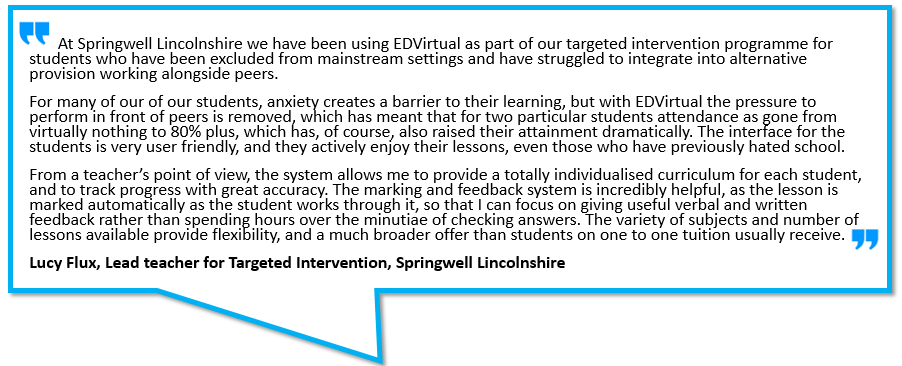 We provide a safe and secure learning environment for hard-to-reach learners, to ensure each learner reaches their full potential in a controlled and safe environment. Using our online platform your establishment can rest assured with our safeguarding tools. Within our virtual classrooms, your staff, alongside EDLounge staff, can educate your learners on bespoke, timetabled pathways via live video stream, all recorded to safeguard your teachers, your school staff and your learners. Each learner follows a unique pathway and is given support and guidance 'live', whenever they require it.
The Virtual Classroom enables you to:
view the learners live via a secure server stream
speak face-to-face
view their learning progress
view actual live answers
mentor students via a secure verbal chat or written chat
set a structured pathway for any individual
This approach can dramatically improve your learners' attendance and achievement.
We have now introduced EDVirtual and EDClass+ to our portfolio of products and look forward to leading the way in virtual education.
The Support
EDVirtual Support is provided by our Support Officers/Teachers whilst learners are on or off-site. This is a supervised and robustly-safeguarded provision. Learners can ask for and receive help, feedback, comments, and direction, ensuring all learners can make progress with EDLounge.
Our virtual classroom and online support system can provide a range of learners with a great alternative provision which adheres to government safeguarding, well-being and supervision legislation. Our platform not only offers your organisation teaching and support, but also offers tutoring, assessment, pre-assessment, verification, and expertise in any subject for any age group for learners following core, academic or vocational courses.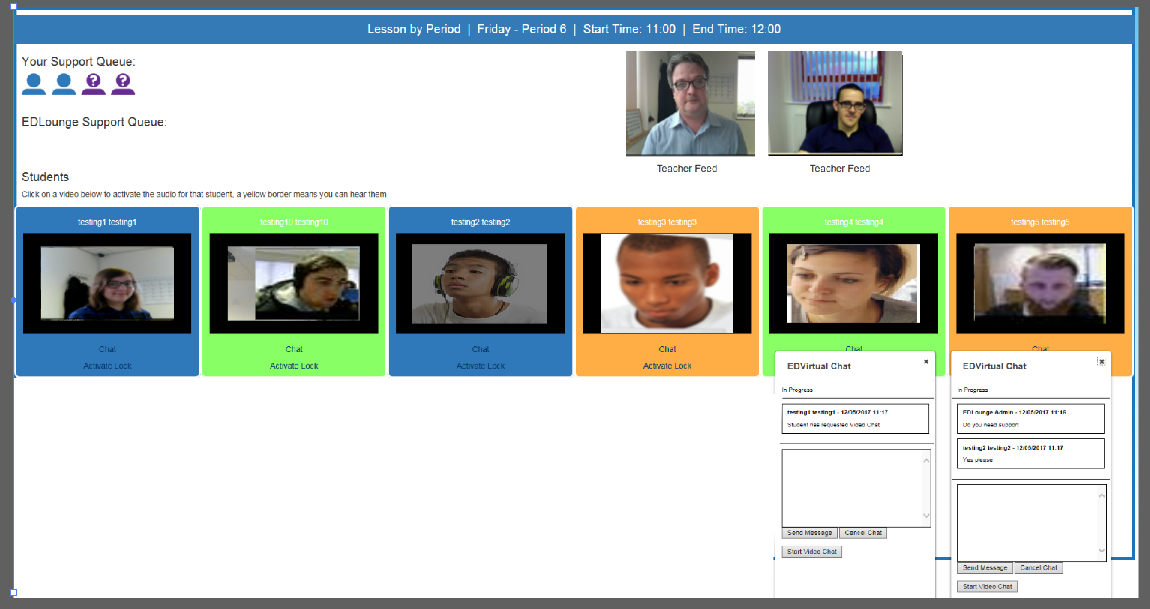 All of our Support Officers/Teachers are uniquely trained to have extensive knowledge and understanding of the EDLounge lessons, system, qualifications, methodology, exams, coursework and practical elements. An exclusive pre-assessment, assessment and feedback service is available for learners, which will help them understand, learn and progress with EDLounge.

To request a Demo of EDClass please click here or fill in the contact form below